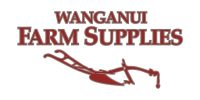 Wanganui Farm Supplies
It would be fair to say that Wanganui Farm Supplies has 'specialised' in the Equestrian market for all of it's years,
becoming
known and respected as the preferred supplier of these types of products in the region. Wanganui Farm Supplies also services the other farming codes such as sheep, beef, dairy and horticulture, and this side of the business has grown enormously over the ensuing years.
We firmly believe our locally owned independent business leads the way in service, stock range, price and reliability. Our talented staff are dedicated to helping our clients get what they need, when they need it.
Our fully covered drive through has been an awesome asset for our clients in inclement weather. No one gets wet anymore! Even the truckies love it!
Acquiring our own seed mixer in 2014 has enabled us to service our farmers more quickly with the ability to create specialised seed mixes on the spot and generally on the day. If you've got contractors in the paddock waiting for a top-up because of a shortfall, error in sowing rate or Murphy's Law has kicked in somewhere, we can get them back on track, saving everyone precious time and money.
Next time your thinking of that rural purchase for the farm, come down to Wanganui Farm Supplies and see for yourself why we are the best at what we do.